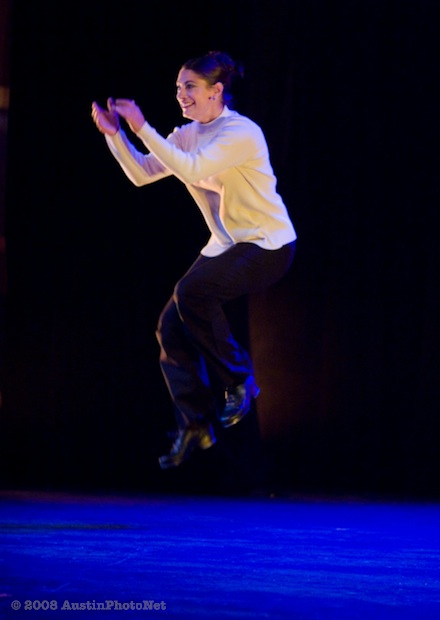 http://coleface.com.au/clients/ Tasha Lawson is the founder and Artistic Director of Tri-Tone Productions and the Artistic Director of Tri-Tone Rhythm Society. Tri-Tone Productions houses a pre-professional rhythm ensemble, a youth ensemble and an adult ensemble. The Company creates and produces interdisciplinary performance works through combining the mediums of body percussion, tap, and movement. Tri-Tone Rhythm Society is a non-profit arts society dedicated to preserving and promoting the art of tap dance and contemporary percussive arts and connecting diverse communities through world class performance, education and outreach programs.
source site A native Calgarian and graduate of Grant MacEwan College's Dance Teacher Training and Dance Performance programs, Ms. Lawson continued her studies at Simon Fraser University while working as a Modern Dancer in Vancouver. She supplemented her tap and body music studies in New York, San Francisco and Brazil. For six years Ms. Lawson toured North America as a Principal Dancer with Tapestry Dance Company based out of Austin, Texas.
ukoptions erfahrungen Tasha was nominated for Dancer of the Year by the Austin Critics Table Awards in 2007 for her performance in Acia Gray's "Souls of Our Feet, a Tribute to American Tap Dance." Serving as the Artistic Director of Tapestry's apprentice Company, Visions In Rhythm, from 2002-2008, Ms. Lawson directed six new full-length concert works. Under her leadership, the Company integrated community outreach programs and toured to San Antonio and Chicago.
azienda opzioni binarie italia - Come giocare in borsa org. Soccer, Flag Football, T-ball & Coach Pitch. Spring 2018 Season: March 10 – May 19. REGISTRATION opens December 31 Practices begin the week of February 26. Soccer Divisions: ages 4–18; Flag Football: ages 6–14; T-ball: ages 5–6; Coach Pitch Baseball: Ages 7–8; Get details on all our leagues here. As a soloist, Ms. Lawson has performed and taught at the Chicago Human Rhythm Project, Vancouver International Tap Festival, Third Coast Rhythm Project, Sole to Soul Tap Festival, Tap into a Cure, MADD Rhythms Canada, Festival Danse Encore, Brazil's Le Biennale De Dance, and Tanzhaus Festival in Dusseldorf. Ms. Lawson was selected as a faculty member for the first Jacob's Pillow Tap residency in 2010 under the direction of Dianne Walker. Most recently, Miss Lawson was presented at the International Body Music Festival in San Francisco, performing alongside Keith Terry, Raul Cabrera and Brian Dyer.
http://salsiando.com/finelit/3593 Tasha has had the great privilege of training and working with legendary tap artists such as Dr. Arthur Duncan, Dr. Fayard Nicholas, Dr. Harold Cromer, Dr. Jeni LeGon, Dianne Walker, Roxanne Butterfly, Heather Cornell, Acia Gray, Brenda Buffalino, Max Pollak and Sarah Petronio among others. She has been an artist-in-residence for numerous Universities and Professional Training Programs and frequently delivers body music classes in Las Vegas for Cirque Du Soleil. Tasha's work with Cirque's Las Vegas performers led to an opportunity to serve as Assistant Artistic Director for their KOOZA production, where she toured with the company in Japan and the US. Tri-Tone Rhythm Society is currently preparing to produce the 7th annual Rhythm, Body and Soul Festival, scheduled to take place in Calgary from February 15-18, 2018. The festival draws master teachers from around the globe and features concert performances with live music, three days of master classes, panel discussions, Tap Jams and more!