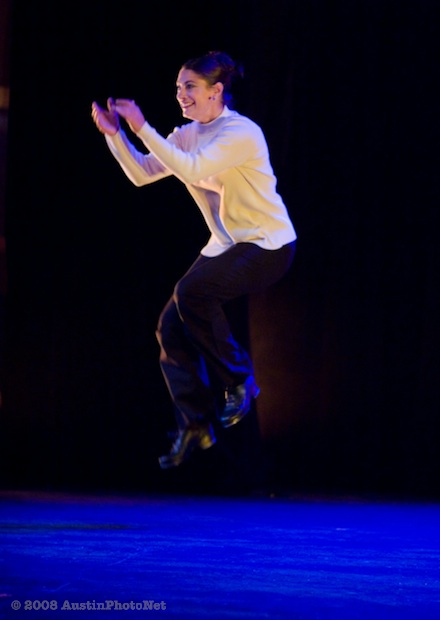 Tasha Lawson is the founder and Artistic Director of Tri-Tone Productions. The company houses an ensemble, training youth to pre-professional dancers in tap technique, history, music, and repertoire. The ensemble is non-competitive, with a focus on education and collaboration with artists, both locally and globally. Tasha is also the founder and AD of the Rhythm, Body and Soul Festival.
A graduate of Grant MacEwan's Dance Teacher Training and Dance Performance programs, Tasha continued her studies at Simon Fraser University while working as a modern dancer in Vancouver. She then spent time in New York, Austin and Brazil, furthering her studies in tap and body music.
For six years, Tasha performed and toured as a Principal Dancer with Tapestry Dance Company based in Austin, Texas. Tasha has had the great privilege of training and working with many legendary tap artists, and was nominated for Dancer of the Year by the Austin Critics Table Awards in 2007 for her performance in Acia Gray's, "Souls of Our Feet: a Tribute to American Tap Dance." During this time, Tasha also directed six new full-length concert works for Tapestry's apprentice company, Visions In Rhythm.
As a solo artist, Tasha has performed and taught at Chicago Human Rhythm Project, Vancouver International Tap Festival, Third Coast Rhythm Project, Sole to Soul Tap Festival, Tap into a Cure, MADD Rhythms Canada, Festival Danse Encore, Brazil's Le Biennale De Dance, Tanzhaus Festival in Dusseldorf, and the International Body Music Festival's in San Francisco and Paris.
She has been artist-in-residence for numerous universities and professional training programs, including the first Jacob's Pillow Tap residency in 2010 under the direction of Dianne Walker. Tasha delivers body music classes in Las Vegas for Cirque Du Soleil, and toured with Cirque, as Assistant Artistic Director for Kooza, in the US and Japan in 2010-2011.
In 2014, the Tri-Tone Rhythm Society was founded; a non-profit arts society dedicated to preserving and promoting the art of tap dance and contemporary percussive arts and connecting diverse communities through performance, education and outreach programs.