A brief history of the Rhythm Body and Soul Festival
Upon returning to my home town after 20 years abroad, I saw an opportunity to share with the local community, some of what had inspired me and informed me throughout my career.
2011 – Rhythm Body and Soul began, as a humble weekend of master classes for the Calgary community. The weekend workshop featured a faculty of 5, including Dianne Walker, Danny Nielsen, Lisa La Touche, Sarah Dolan and myself, Tasha Lawson. It was intended to be a one time event!
2012 – The community showed great interest and a desire to expand and deepen their rhythmic knowledge. Subsequently, I was urged to start an ensemble for the purpose of training passionate young Tap dancers. The Tri-Tone Rhythm Ensemble was born, which consisted of 10 passionate young artists who came together 5 hours a week for concentrated training.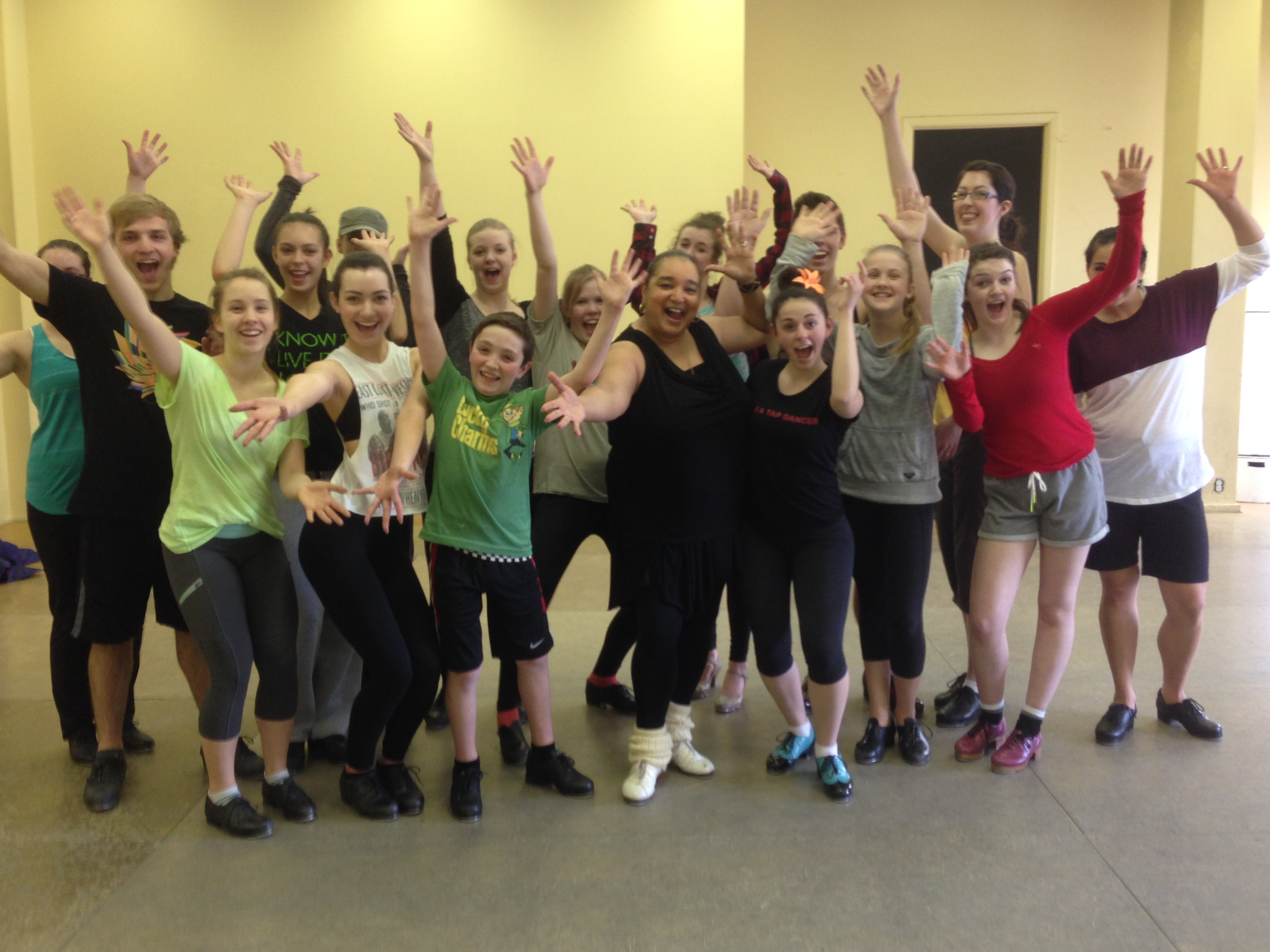 2013 – With the desire to expose the dancer's to more, I expanded the Festival to include master classes, workshops and a Concert Performance evening, featuring 6 world class Tap Dance artists, 2 movement artists and 4 of Western Canada's most respected musicians. The concert sold out, received a standing ovation and a television special on OMNI Multi-Cultural Television.
2014 – RBS expanded yet again, offering over 35 classes, courses and workshops, A live concert, music classes, tap jams, panel discussions, and a showcase. We began drawing participants from across Canada.
Meanwhile, The Tri-Tone Rhythm Ensemble grew exponentially, offering 3 divisions of training. As the age old saying goes, it takes a village! Soon, a motivated, diverse, and intelligent team came together, creating the Tri-Tone Rhythm Society. (See Tri-Tone Rhythm Society for more details).
2015 – The Society worked together for 4 months to create an unforgettable rhythmic experience. In addition to our previous year's offerings, we hosted our first Rhythm Heart and Soul Valentines Gala. The event sold out, and was a huge part of the festival's success with a silent auction, live band, performances, dinner, dancing and Tap Love. In addition, we celebrated the Birthday of the late Gregory Hines on February 14th. It was certainly a memorable evening and a fabulous festival, doubling in size!
2016 – The 5th Annual festival offered, 7 world class faculty members. In preparation for the festival, we had Guest Artists: Michelle Greenwell, Danny Nielsen, Katherine Kramer and Derick Grant, to work with Calgary's growing ensemble and expand into the community. Seven of the advanced Tri-Tone Ensemble dancers were selected for 3 creative residencies in the creation of a new work co-directed by Derick Grant and Tasha Lawson. It was a highlight to witness their development and growth during the process. During the festival, we premiered "CARAVAN", A Musical Journey Through Tap Dance, as well as a faculty concert.
Back by popular demand was our our 2nd Rhythm Heart and Soul Valentine's Gala. The Gala included dinner & dancing, a live jazz trio, faculty performances, a silent auction and a lot of fun!
We offered over 40 Master Classes, Courses, Tap Jams and a student showcase. I never imagined that a "weekend workshop" would grow into such an invigorating Celebration of Rhythm!
2017 – Marked the 6th Annual festival. We welcomed Max Pollak and Roxane Butterfly to Calgary for the RBS "Residencies". The residencies provided a space for the intermediate and advanced dancer to immerse themselves for 3 days with Max and Roxane, exploring their innovative, technical and creative artistry. The weekend also included enrichment classes in yoga and injury prevention, a live music tap jam, a performance showcase, and a closing party.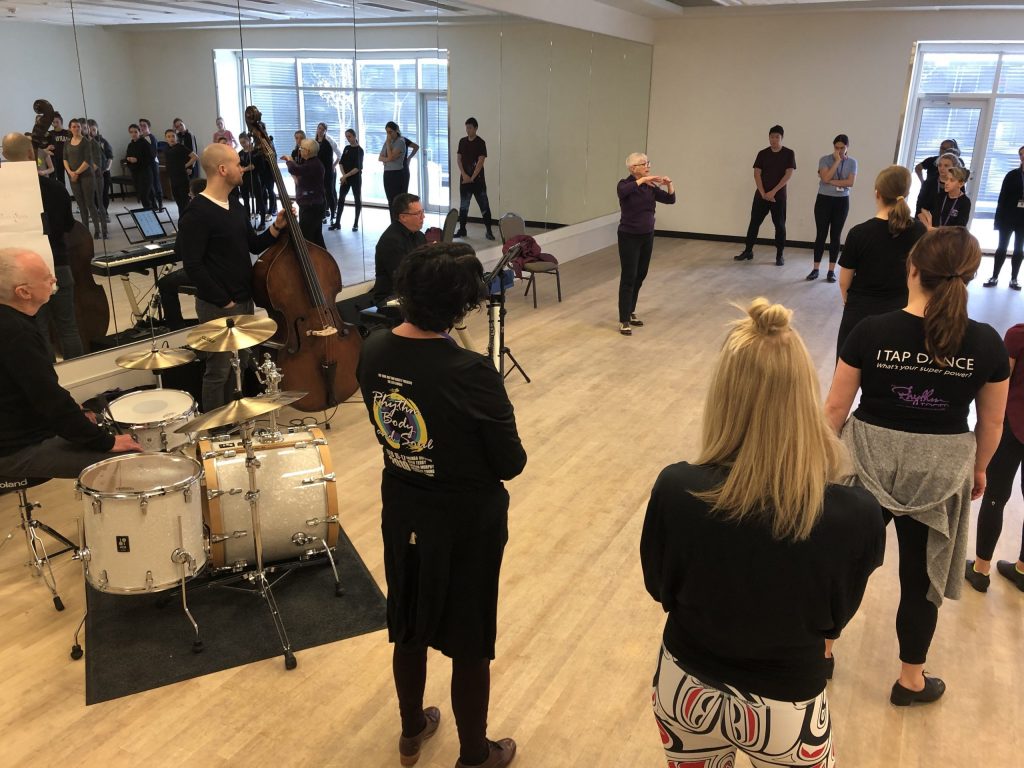 2020 – Dianne Walker Sessions – We scaled back to an intimate study weekend with Dianne Walker. We have been studying the work of Leon Collins with Dianne over the past decade. We were able to do a deep dive into Routine #2 and Routine #4. We also premiered A Kiss In Time with the intermediate and advanced Tri-Tone Rhythm Ensemble's. The concert sold out with a standing ovation and included a tribute to Dianne. It was a very special weekend. Little did we know, that the pandemic would hit 2 weeks later. We were so grateful to premiere the concert, however we did have to cancel our ENCORE performance. It truly was a " Kiss" in Time….
2021 – "Conversations in Time" – with Dianne Walker, Jane Goldberg and friends. 
The pandemic moved us on line for a weekend of panel discussions with Dianne Walker, Tap Historian, Jane Goldberg and many friends who joined us from around the globe.
We hosted interactive 3 screenings.
2018 – The Oscar Peterson Experience – We were delighted to receive the blessing of Oscar Peterson's wife, Kelly Peterson in delivering a tribe concert to the iconic, Canadian born, piano virtuoso. Co-Directed by Tasha Lawson and Travis Knights, the concert welcomed Heather Cornell, Sarah Savelli, Jay Fagan, Jessie Sawyers, Travis Knights and Tasha Lawson to the stage. Stellar musicians Chris Andrew, Kodi Hutchinson and Jon McCaslin joined the artists in the multi media, story telling evening of dance live music and video. Each artist delivered an expression of how Oscar's musicianship and work ethic has inspired them. 
We also offered master classes, film showings, a participant showcase, and tap jam alongside the world class faculty!  
2019 – We were delighted to welcome tap dance legend, Brenda Buffalino and Body Percussion Master, Keith Terry. Nicholas Young also joined us from New York, and Carson Murphy was on the bill, but a last minute cancellation welcomed Lisa Latouche.  We showcased participants at the DJD Theatre with Keith Terry headlining, and hosted a dynamic tap jam at the Espresso Cafe, where Keith also played drums with the trio!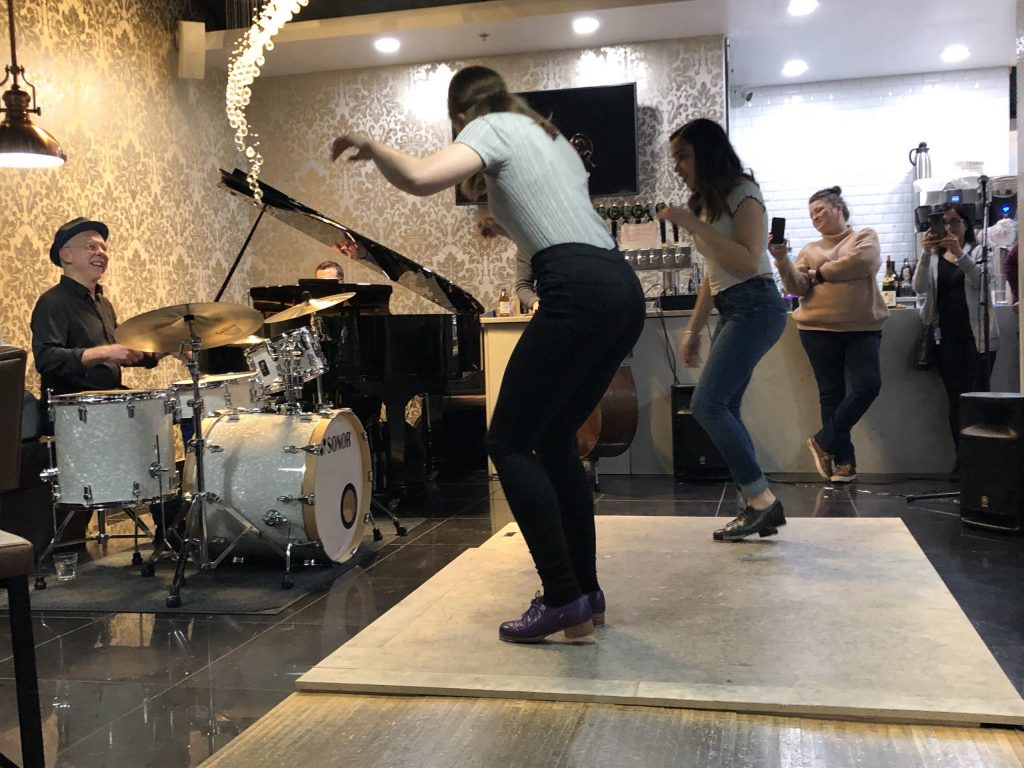 First up, was a "A KISS IN TIME". A Kiss In Time was a beautiful sold out concert performance celebrating Valentine's day. As we were forced to cancel our encore performance, we shared the work virtually.
Next up was a retrospective of the festival. In our 10th year, we compiled a compilation of the past, showcasing the diverse array of talent who have graced our faculty concert stages and studio's over the past decade.
We closed the weekend with a screening of "By Word Of Foot" with Jane Goldberg. By Word of Foot was the first Tap festival in New York in the 1980's, featuring many of the legendary late Tap Masters.
I am truly grateful for the support of the community, our Board of Directors, Decidedly Jazz Danceworks, our audience members, patrons of the arts, sponsors, the many passionate and hungry students, and to each and every faculty member who's generosity and sharing of wisdom and knowledge have left a lasting impact on our Rhythm, our Body and our Soul!
We Welcome You to our Community!
Warm Regards,
Tasha Lawson
Artistic Director
Rhythm Body and Soul Festival

TAP
Dianne Walker
Heather Cornell
Derick Grant
Jay Fagan
Sarah Savelli
Max Pollak
Roxane Butterfly
Tasha Lawson
Lisa La Touche
Danny Nielsen
Barbara Phillips
Katelyn Harris
Travis Knights
Jessie Sawyers
Rocky Mendes
Terry Brock
Katherine Kramer
Nicholas Young
Carson Murphy
Keith Terry
Brenda Bufalino
Jane Goldberg
MOVEMENT
Sarah Dolan
Sarisa De Figueroa De Toledo
Shay Kuebler
Deanne Walsh
Ingrid Diaz
Kyrsten Blair
Gomo Cabarroguis
Angela Gladue "Lunacee"
Dani West
MUSICIANS
Chris Andrew
Gerry Hebert
Rubim De Toledo
Jeremy Coates
Raulito Gomez Tabera
Natasha Korney
Mark Moran
Eileen Kosasih
Sanja Supleveska-Borial
Rocky Mejia
Jon McCaslin
Steve Shepard
Mark Limacher
Kodi Hutchinson
Deanne Matley
TECHNICAL / BEHIND THE SCENES
Owen Day (Lights)
Matt Ryan (Web Design)
Kris Mish (Video)
Gayle Larsen (Costumes)
Cameron Clowe (Floor)
Kelly Eshpeter (Video)
Mark Suchlandt (Photo)
Lauren Acheson (Lights)
SPONSORS, SUPPORTERS & DONORS
Decidedly Jazz Danceworks
North On Centre
Evergreen Studios
Calgary Cat Clinic
Vicki Whyte and Alun Cooksley
Edo Japan
Anne and Tom Donaldson
Rileys
So Danca
Beautiful Futures
West Jet
EXEC Suite
Winecrafts
Chicago Human Rhythm Project
Tri-Tone Productions
Freehouse Dance Plus
CIR Realty
Sharon Lawson
Ceregem Calgary
Naughty Nellie's
Agrium
Dancing Fair
Scott and Loretta Wallace
American Tap Dance Foundation
Third Coast Rhythm Project
Vancouver Tap Society
Vicki Whyte and Alun Cooksley